Former COGS major Shreya Gupta is now a user experience ("UX") researcher in Silicon Valley. For the past couple of years she's been working with the growing startup called UserTesting, which creates tools for businesses and other website owners to investigate the nature of their web traffic. We caught up with her to ask her some questions about how it's going after her time at UC Merced COGS.
What is the company you work for, and in what position?
I'm currently transitioning out of UserTesting and moving onto my next big adventure as a UX Researcher at Blizzard Entertainment. I'm really excited, but also pretty apprehensive because that means moving to Orange County from the Bay Area! But I get to do gaming research, something that the inner-geek inside me is ridiculously excited about. My next project is going to be working with Blizzard Entertainment on the Battle.net platform. I'm going to be conducting gaming research and finding ways to improve the experience on Battle.net with the rest of the UX team there.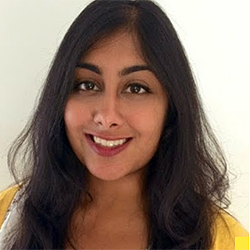 How did your COGS coursework and lab work prepare you for this position?
I think it's safe for me to say that I wouldn't have landed either jobs at UserTesting or Blizzard if I hadn't been involved in lab work at UCM. All my interviews so far have asked me questions about the type of labs I was involved in college. Taking different courses helped me understand which part of Cognitive Science I wanted to explore more (since there are so many areas to get into). For example, I remember taking Intro to Linguistics as a sophomore, and absolutely being fascinated by all Professor Matlock had to teach. The class made me realize I wanted to know what type of linguistics research was being done at UCM, and that's how I decided to enroll in the lab. In the lab itself, I remember going through pages and pages of diagrams people drew to showcase how they think about terms like "far", "small", "big" (i.e. participants were asked to draw a "far away house" or a "small house"). This was my first real exposure to seeing how people perceive things and how their mental model shape how they experience the world, which of course is what being a UX Researcher is all about.
I then took COGS 153: Judgement and Decision Making, taught at the time by Professor Evan Heit. That class gravitated to me mostly because I was terrible at making decisions, and I was hoping by taking the course I would understand the processes that go behind making decisions. I then worked during summer with him, collecting surveys and analyzing how people perceive brands and success of them. For example, if a brand such as Google came out with products that were outside of searching things, how likely did people thing it would succeed? This lab REALLY helped me understand what quantitative research is all about, and to this date, the skills for survey design and analyzing survey results really comes in handy. Writing a good survey is actually quite difficult, so getting that experience early on definitely made a huge impact.
Finally, I was part of Rick Dale's lab. I found out about it through a few colleagues and the term "eye-tracking" just stood out to me. I mean, undergrads rarely get the chance to work with those types of tools, so I really wanted to make the most of my remaining time at UCM and be part of the lab. That lab really exposed me to key skills that help me to this day, skills such as recruiting/scheduling participants, moderating live participants, going through the process of collecting data and analyzing it (bee swarming and heat maps!). My only regret is that I didn't discover the lab earlier on so I could have been part of also presenting the findings, because that really would have been quite exciting.